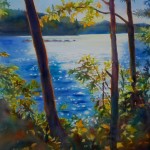 Come see our beautiful scenery not only through your own eyes but through interpretations of our local artists. Art Celebrates Place at the Tin Mountain Conservation Center in Albany, NH is displaying works by local artists featuring lands protected by the Upper Saco Valley Land Trust. The exhibit runs from April 7 – May 20, and a portion of each artwork sold will benefit the Land Trust. Some works from last year's exhibit by artists such as Terri Brooks are featured on the Trust's Facebook. The Trust's most recent effort is the Albany Town Forest Project (in partnership with the Town of Albany and the Trust for Public Land) to conserve land along the Swift River and Kancamagus Highway just west of Conway.
Jackson Art Studio and Gallery is hosting 'Abstraction', an exhibit featuring oils by local artist Rebecca Klementovich, whose work is displayed in galleries in New York and Massachusetts as well as New Hampshire. The exhibit emphasizes a  bright color palette and unusual representations of local landscapes. The exhibit opens April 13; Gallery hours are Saturday and Sunday 12:30 – 4:30 pm. The Gallery is located at 155 Ridge Road in Jackson, just off Route 16 north of the village.
A new gallery in Tamworth, the Gatehouse Gallery, is opening its season with an exhibit by Daryl-Ann Dartt Hurst, a talented artist who draws inspiration from "experiencing nature and recording it". The exhibit opens April 14, and gallery hours are 10 am to 6 pm Friday through Monday.
Of course, White Mountain Photography here in Jackson village always has a wonderful display of images of the White Mountains by owner Dana Clemons. The gallery is open Thursday and Friday 10:00-4:30. Saturday 9:00-5:00, Sunday 9:00-11:30, and Monday 9:00-4:00.
Welcome spring with a visit to the Mount Washington Valley. Take advantage of our special value vacations lodging offer and enjoy these local exhibits celebrating the beauty of the White Mountains!