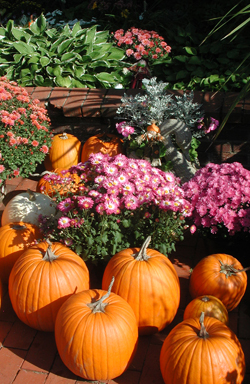 Foliage season in the White Mountains means it's time for the Fryeburg Fair, September 30 – October 7, 2012. The biggest agricultural fair in Maine began 162 years ago, organized by the West Oxford Agricultural Society which includes 16 towns in Western Maine and 6 in Eastern New Hampshire. It's a family-oriented country fair with livestock events, harness racing, a steer and oxen show, carnival, concerts each evening, and more.
The Farm Museum depicts almost 250 years of history since the settlement of Fryeburg in the 1760s. Almost all the early crafts and activities needed for the challenging life in the White Mountains are represented there ~ not just farming, but also lumbering and log driving, blacksmithing, harness making, cider pressing, carpentry, ice cutting, maple syrup making, candle making, and more. Butter and ice cream are made the old-fashioned way, and food is cooked on a wood stove.
Monday's events at the Fair include the Woodmen's Day and the Skillet Toss competitions; the Grand Parade starring the livestock is held on Saturday morning. Food is always a highlight, whether it's sampling the Fair's french fries with vinegar or a stop at the new Special Foods Pavilion with 30 vendors. You'll want to enjoy the many local artisans and organizations who have booths offering food, crafts, and fun as well. A visit to the Fryeburg Fair is a great addition to your leap-peeping plans in the North Conway – Jackson area.