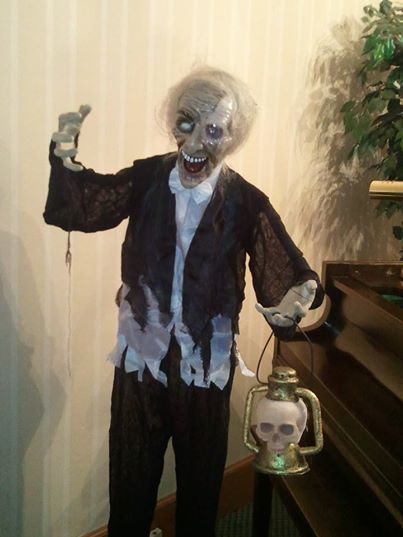 The Inn at Ellis River is decorated for Halloween, including Vinney, the friendly ghoul waiting to greet guests. Don't worry, you'll find your innkeepers at the door, too! Vinney arrived just in time to welcome all the visitors on the Ghost and Goblins Trail, and to offer them Spooky Gingerbread Bars. Here is the recipe to enjoy ~ they'll vanish just as quickly as any ghosts!
SPOOKY GINGERBREAD BARS
Gingerbread Ingredients
2 cups all-purpose flour
3 teaspoons ground ginger
2 teaspoons ground cinnamon
1 teaspoon ground nutmeg
1 teaspoon ground cloves
½ teaspoon baking soda
½ teaspoon salt
10 Tablespoons (1 1/4 sticks) unsalted butter
3/4 cup brown sugar (packed)
7 Tablespoons sugar
2 large eggs
1/4 cup unsulfured molasses
Directions For Gingerbread
Preheat oven to 350 degrees F. and spray the bottom of a 13×9 pan with non-stick baking spray. Mix together the flour, spices, baking soda and salt in a medium bowl. Using an electric mixer beat together softened butter, brown sugar, and 3/8 cup (6 Tablespoons) sugar in a large bowl until light and fluffy. Beat in eggs, 1 at a time, then molasses. Add the dry ingredients to butter mixture and beat until blended. Spread evenly in prepared pan and sprinkle with remaining sugar. Bake gingerbread for about 22 minutes until golden brown and tester inserted in the center comes out clean. Cool completely in the pan on baking rack. NOTE: Bars can be made 2 days ahead. Store in an air-tight container at room temperature.
Frosting Ingredients
6 ounces cream cheese
4 ounces (1 stick) butter
2 2/3 cups confectioner's sugar
2-3 drops orange food coloring
1/4 bag of mini chocolate chips
Halloween sprinkles
Directions For Frosting
Place softened cream cheese and butter in the bowl of an electric mixer. Beat together on medium speed until very light and creamy. With the mixer on low speed, gradually add the confectioner's sugar a cup at a time until smooth and the desired consistency. Spread frosting over cooked gingerbread and sprinkle with chocolate chips and Halloween sprinkles. Once frosting is firm, cut into rectangular bars.