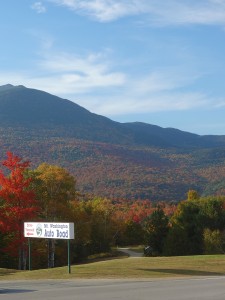 This is the perfect time for a fall getaway to enjoy our spectacular foliage season. According to recent reports, colors are peaking in the Great North Woods, and developing quickly in the White Mountains region. From Jackson, take Route 16 north through Pinkham Notch, where you will see a variety of yellows, reds and oranges mixed among the green on Wildcat and Mount Washington. At Gorham, continue north on Route 16 to Berlin, then head northwest on Route 110 toward Groveton. Then you'll head south on Route 3 along the New Hampshire – Vermont border to Lancaster. If you wish, take a short detour across the Connecticut to see Guildhall, a charming Vermont village. From Lancaster, follow Route 3 south toward Whitefield, where foliage is close to peak.Just before reaching Whitefield, you will see the entrance to the Mountain View Grand Hotel. Turn left for spectacular views from their access road, which continues east past the hotel to an intersection with Route 116. Turn left, and make a loop northeast on Route 116 to Route 2, east a few miles to Route 115A, then south on 115A and 115 to where it rejoins Route 3. You'll see the northern Presidential range in all it's fall glory.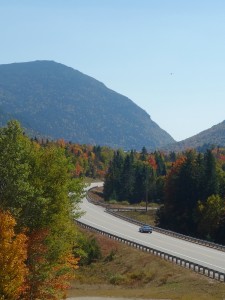 When you reach Route 3, turn south to Route 302, then east on 302 for beautiful color near Bretton Woods, the Mount Washington Hotel, and Crawford Notch. This route brings you to Glen, and the short drive north on Route 16 back to Jackson and the Inn at Ellis River.
An alternate drive is Route 16 north through Pinkham Notch to Gorham, and then continuing north on Route 16 to Berlin, and then through the 13 Mile Woods to Errol along the Androscoggin River. For a White Mountain foliage drive less traveled, turn east at Gorham on Route 2 to cross the border into Maine, then following Route 113 south through Evans Notch to Fryeburg, ME and then back over Hurricane Mountain Road to the Intervale and back to Jackson on Route 16.