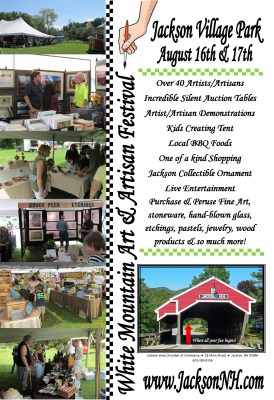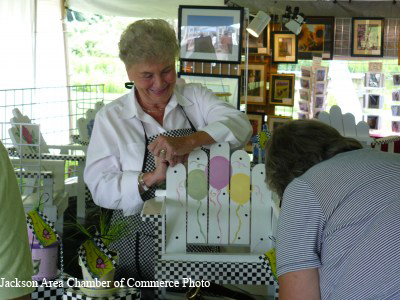 Jackson, NH's Annual White Mountain Art & Artisan Festival takes place Saturday August 16 (10 am to 5 pm) and Sunday August 17, 2014 (10 am to 4 pm). This juried event is one of New Hampshire's premier art and artisan festivals, featuring works by more than 40 artists presenting fine arts, sculpture, glass and wood arts, fiber arts, ceramics, and jewelry for sale. In addition to the art displays, there will be a silent auction, food and refreshments, and live music throughout the weekend.
Art in the Park is scheduled for August 9, 2014, from 10 am until 4 pm at Schouler Park in North Conway. Sponsored by the Mount Washington Valley Arts Association, this juried event hosts member artists working in photography, fine art, sculpture, glass, ceramics, and fine crafts. Paintings and collages by Jackson artist Dee James will be among the exhibits.
Although Jackson Historical Society's annual White Mountain Art Sale is not until October, their website showing this year's offerings and prices will be live after August 20, 2014. All art works for sale can be seen at the Society's building in Jackson village, including 10 paintings (six of them by Frank Henry Shapleigh) from the Society's collection. Their October exhibition: "White Mountain Scenes: Different Artists ~ Different Views" is open from October 17- 31, 2014.