Jackson, New Hampshire has many things to offer – we specialize in artistic, handmade, custom designed wedding and specialty cakes, inventive, rustic, house-made sandwiches, wraps, soups, and salads as well as truly one-of-a-kind floral creations for any occasion including weddings, elopements and more. Jackson, NH lies at the edge of the 750,000 acre White Mountain National Forest surrounded by spectacular natural beauty. It nestles in a landscape of covered bridges, white steepled churches, rolling farmland, mountain grandeur and cascading waterfalls. A stroll through the village will highlight Jackson's history and its scenic surroundings.
Recreation abounds in every season. . . from hiking, biking, horseback riding, rock climbing, canoeing, kayaking, fishing and golf to snowshoeing, ice skating, and cross-country and downhill skiing on some of the finest trails in the East. The village's hotels, inns and restaurants have a 150 year tradition of extending their warm hospitality.
Though incorporated in 1800, it was not until the mid-1800's that Jackson became a popular destination for artists wanting to capture the scenic beauty of the area. The White Mountain School of Art hosted an ever growing number of artists of the Southwest, New England, and many of Europe's ateliers. The landscapes they painted attracted other visitors drawn to the beauty of the area. Local residents opened their doors to these visitors, and many expanded their own homes into boarding houses. The Inn at Ellis River began in this way nearly a century ago. A number of hotels were built to accommodate the increasing numbers of visitors arriving by train for the summer to enjoy the mountain air, genteel recreation, and conversation while relaxing in rockers on the many porches.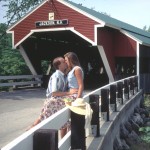 Jackson's covered bridge which spans the Ellis River has been called the "Honeymoon Bridge" or the "Kissing Bridge" since it was built in 1876. The centuries long romantic tradition for couples in love to steal a kiss at the bridge continues today, as does the simple beauty of this village and its tradition of warm hospitality. Visitors come year round to enjoy the same views, covered bridges, white steepled church, and water falls, and now can enjoy the many recreational and cultural opportunities as well.
Some Places to Stop as You Walk the Jackson Loop
Group 8 Gallery 211 Main Street 585-209-9136. Stop in weekends at this cooperative gallery to see rotating exhibits and invitational shows.
J-Town Deli & Country Store 174 Main Street 603-383-8064. Stop in for sweets and treats, salads, sandwiches and specialty foods in an atmosphere typical of an old fashion Country Store.
Jackson Historical Society 23 Black Mountain Road 603 383-4060. Built by Andrew Harriman, who was the first owner of the original portion of the Inn at Ellis River in 1893 and used it as a personal residence, the Old Town Hall is on the National Register of Historic Places. It features both Jackson history with a focus on the White Mountain School of Art and the River Arts Gallery with works of local artists.
Autumn Nomad Cakes & Cafe 18 Black Mountain Road 603-383-6511. "…Specialize in artistic, handmade, custom designed wedding and specialty cakes, and inventive, rustic, house-made sandwiches, wraps, soups, and salads."
Dutch Bloemenwinkel 18 Black Mountain Road 603-383-9696. A small European-style flower shop featuring flowers and house plants, home accents, greeting cards, specialty balloons, etc.
White Mountain Puzzles 18 Black Mountain Road 603-383-6511. The Inn's gift area features some of their 1000 piece puzzles, but for a wider selection, stop in their shop (and don't forget to ask us about a discount voucher we sometimes have available).
White Mountain Photography 95 Main Street 603-374-6050. Owner Dana Clemons spends much of his time photographing while hiking and skiing throughout the White Mountains. The gallery offers matted and framed prints of all sizes, starting at $30. Closed Tuesday, Wednesday.
The Cassidy Gallery 95 Main Street 603-662-2074. Owner Nancy White Cassidy features over 30 artists and artisans from the Mt. Washington Valley and New England. In addition to framed original art, she features the work of artisans in blown, fused and lamp worked glass, fabric art, ceramics, wood, and jewelry. Closed Tuesday, Wednesday.
Ravenwood Curio Shoppe 60 Main Street 603-383-8026. Features a multitude of curiosities, rarities, novelties, and artistries.
Jackson Public Library 52 Main Street 603 383-9731. The idea of a "Free Public Library" for the town was initiated by John K. Porter of Boston, who was a guest at the Thorn Mountain House in 1879. The library moved to its present location in the adaptively reused Trickey Barn in 2010. Free WiFi hotspot.
Jackson Chamber of Commerce 18 Main Street (rear) 603-383-9356.
Flossie's General Store & Gift Emporium Main Street 603-383-6565. Located next to the covered bridge, it is known for its country store feeling with a wonderful array of gifts and collectibles for all ages.
Jackson Art Studio and Gallery 155 Ridge Road 603-387-3463. Located off the loop but still in Jackson (go 1 mile north of the inn on Route 16), this gallery hosts the works of several local artists and artisans. Open weekends only.
Find yourselves here before life hurries on, and experience the natural beauty and serenity that surround you!