Inn at Ellis River's Citrus Mint Iced Tea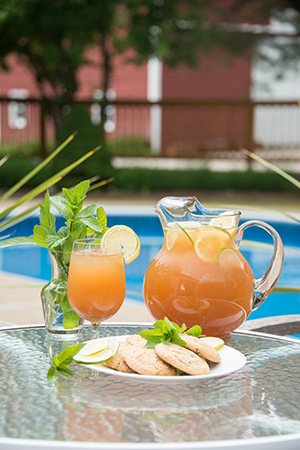 Featured for the 2013 Inn to Inn Herb Tour, the Inn's guests enjoy this refreshing iced tea often during the warm summer afternoons.
Ingredients:
4 tea bags
8 fresh mint sprigs
4 cups boiling water
3/4 cup fresh lemon juice
1/4 cup orange juice
1 1/4 cups sugar, or to taste
3 cups hot water
Directions:
Bring 4 cups of water to a boil. Add tea bags and mint; cover and let steep for 10 to 15 minutes. Combine remaining ingredients in a 2-quart pitcher. Stir until sugar is dissolved. Remove tea bags from tea mixture; add to pitcher and stir well. Chill. Serve over ice. Makes 2 quarts.