John's Award-Winning Maple Ribs
Maple Ribs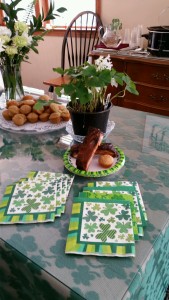 1/4 Cup maple syrup (preferable grade B)
1/4 Cup spicy brown mustard
1/4 Cup apple cider vinegar
1 TBSP salt
4 Lbs pork and beef ribs
1/4 Cup of your favorite barbeque sauce
Rub ribs with Maple Rub * and refrigerate overnight. *
Whisk together the maple syrup, mustard, cider vinegar, salt, and barbeque sauce. Smoke ribs at 250 degrees for 4 to five hours basting with the maple glaze every hour. When the meat has pulled back from the bones, remove the ribs from the smoker and baste one last time with the maple glaze.
Let sit 5 minutes.
Maple Rub  *
1/4 Cup paprika
1 TBSP maple sugar
1 TBSP granulated sugar
2 TSP salt
1 TSP dry mustard
1 TSP garlic powder
1 TSP celery salt
1 TSP black pepper
2 TSP cayenne pepper (to taste)
2 TSP Accent (optional)
1 TSP onion powder
Combine all the ingredients in a jar, twist the lid on airtight, and shake to mix.
Note: This rub can be stored, away from heat and light for up to 6 months.