WILDQUACK DUCK RACE & MUSIC FESTIVAL ~ Sunday, May 30, 2021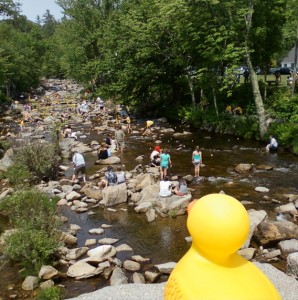 On Sunday, May 30, 2021, the Wildquack Duck Race and Music Festival is back! Come stay with us to enjoy this wonderful Memorial Day Weekend event in the White Mountains – it is guaranteed to be fun!
This much-anticipated and wacky event takes place starting at 9 AM on Sunday, May 30th, 2021. Watch approximately 3,500 rubber duckies race down Jackson Falls starting in the early afternoon for a chance to win cash and other exciting prizes. Don't miss this classic New England village festival with its wonderfully talented local musicians, Silent Auction Tables, Parade, food and drink vendors and more… and of course, see all those adorable yellow ducks tumbling down Jackson Falls to the finish line. Enjoy the start of summer with a 2-night stay and enjoy:
'Good Luck Duck' hors d'oeuvres Saturday evening in the pub
Two official duck entries in Sunday's race (post time 1:45 pm) (Additional ducks to enter are $6 each or 4 for $20)
A souvenir ducky to take home
Breakfasts and afternoon refreshments, of course ~ they'll be ducky!
Ducky goodies
You could win cash prizes, overnight getaways, ski passes, golf passes, dining gift certificates, train rides, and much more if you've got a lucky duck – more than $10,000 in cash and prizes!
This two night holiday package is $350-$430 for Classic rooms, and for Fireplace rooms, and $450-$530 for jetted tub rooms plus tax, based on room selection. Add Memorial Day at a 20% off normal, slow season rate.