Meet the Innkeepers ~ John and Mary Kendzierski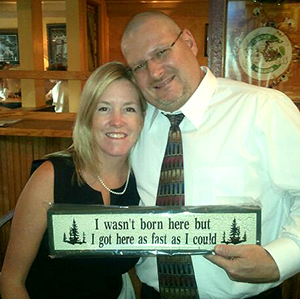 Our story is likely familiar to many in their own lives – throughout our years in the so-called "corporate world", we always looked forward to "getting away from it all" due to our busy and often hectic schedules. In 1997 we were introduced to Jackson, New Hampshire – a picturesque and quaint village that gave us the sense of walking back in time when we could imagine things were simpler. We instantly loved Jackson and the surrounding areas so we came back to visit as often as we could. Over the years we stayed at the various inns Jackson has to offer – each one unique and boasting different things whether beautiful landscapes and views, or top-notch service and amenities or excellent food – normally, all of those things! We left each time looking forward to our next visit – Jackson felt like home to us. The Inn at Ellis River was at the top of our list of favorites!
Gradually our dream of owning an inn, in Jackson began to form and take root. We have countless fond memories of hiking, waterfalls, shopping, fabulous food and relaxing stays at our favorite inns. Finally, after years of dreaming about it, we made it a reality and after now five years being in this beautiful Inn and wonderful community, we are happy to be here and knew that we made the right decision. We continue to truly enjoy this life we have created for our little family which includes of course, our twelve-year-old daughter, Stephanie, and feel very blessed to be here. Our primary goal remains: to continue the previous owners' tradition of making our guests feel at home and comfortable.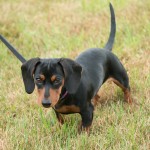 Christine Baumann joined the Inn more than 13 years ago as assistant innkeeper and has been helping care for our guests ever since. She is a favorite among many. Tuesdae (Glanville) Pierce and Shantell Capone keep the Inn sparkling clean and help get our guests' mornings off to a delicious start at breakfast. Two other important members of our innkeeping family are John and Mary's Yellow Labrador Retriever, Roza and Christine's Miniature Dachshund, Emma. Roza, who still acts like a puppy was born in March, 2016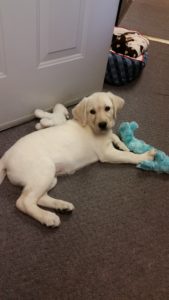 and loves to play! Emma was born in February, 2014, she enjoys greeting guests, tummy rubs, walks, and treats. Emma and Roza have become good furry friends!
Creating a special place for our guests to enjoy (and to provide our most "famous" bacon!) remains our greatest goal.