GO TAKE A HIKE – HIKE THE WHITE MOUNTAINS!
It is that time of year when we tell you to "Go Take a Hike" in the White Mountains! The Inn at Ellis River is in the heart of the Mount Washington Valley area central to many hiking trails, hiking centers and waterfalls. There are hiking trails for all activity levels from beginners to intermediate to the professional, avid hiker. Some hikes in the area are easy walks to waterfalls – some of which the Inn's rooms are named after such as Diana's Baths, Glen Ellis Falls or Crystal Cascades.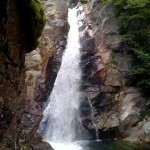 Want a challenge? You will find many more intense hikes such as Tuckerman Ravine which is one trail leading to a very challenging hike by continuing on to hiking to the Mount Washington Summit. Hike some or all of the "4,000 Footers" which, of course includes the highest; Mount Washington – most of which are in the White Mountains. Many hikes in the Mount Washington/ White Mountains area have spectacular views of the mountain summits, lakes, waterfalls and so on.
In the spirit of healthy living and active lifestyles, take advantage of our "Go Take a Hike" 2-night lodging package. Our two night package includes a full breakfast each morning which will help provide you with the necessary fuel for your hikes and afternoon refreshments as well as:
• Homemade IER Trail Mix
• Fresh fruit
• 2 IER water bottles
• 2 Bottles of Water
• Waterproof hiking map
Pricing varies depending on season. Quiet Season package rates plus 9% NH state tax: $333-$353 Classic Rooms; $353-$413 Fireplace Rooms; $433-$513 jetted tub Rooms. Inn (Summer) Season package rates plus 9% NH state tax: $353-$413 Classic Rooms; $353-$413 Fireplace Rooms; $453-$573 jetted tub Rooms. Foliage Season package rates are higher. Package available until November 1, 2020