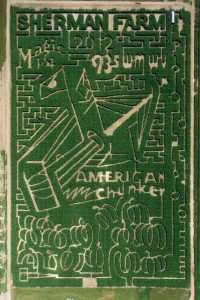 What is a fall weekend without a trip to a pumpkin patch, farmstand, and corn maze for outdoor fun? Plan to include Sherman Farm in nearby East Conway, NH, in your getaway plans. Visit their Farm Stand and Pumpkin Patch to pick out your own pumpkins and produce to bring home. Then take a hayride and challenge your labyrinth navigating skills in their corn maze, which is open every Saturday and Sunday from September 22 through October 28, 2012, from10 am until 5pm (last two weekends in October the maze closes at 4 pm due to darkness). Admission is $9 per person. A concession offers fall treats like cider donuts and kettle corn as well as hamburgers, hot dogs and drinks.
The Sherman Farm MaiZE this year is "Go Team American Chunker" with several miles of pathways. A wizard can follow the correct path in 20 to 30 minutes, but the average human takes about one hour or more. There are two phases to the maze as well as a "mini maze" to accommodate all ability levels. Generally one phase is a little shorter than the other and less difficult. To help you find your way, you can use a series of passports with questions. Correct answers to the questions gives you clues to guide you along the correct path to the exit. This is the sixth year of Sherman Farm's maze ~ to create one, the farm owners must choose a variety of corn that has the right stalk strength and height to create the feel of a labyrinth of pathways. Mazes require about 20,000 plants per acre, with a growing schedule two to three weeks later than crops being planted for grain.
Are you looking for a scary nighttime adventure? Their MAiZE Massacre (A Haunted Maze) is open weekends October 5 & 6, 12 & 13, 19 & 20, 26 & 27 from 7 to 9 pm. A Flashlight (non-haunted) Maze is open October 19 & 20, 26 & 27 from 7 to 9 pm as well. Admission is $9 per person.
Plan on some great outdoor fun during your fall visit to the White Mountains!