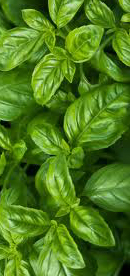 The Inn at Ellis River will offer basil on the 2012 Inn to Inn Herb Tour. We've created special breakfast, appetizer and dessert recipes, plus a tasty summer drink to enjoy, so plan your weekend getaway to New Hampshire now! Your foodie vacation includes visiting 10 Country Inns in the White Mountains to learn all about the herbs we are featuring — their uses, and history, plus sampling tasty treats and taking home a starter garden of seeds and a binder full of recipes and herbal lore.
You probably know that basil is popular in Mediterranean, Asian and South Asian cuisines, but did you know it has been grown for over 5,000 years? In Greek, it means "royal,", so it has been called the "king of herbs". In India, it is a valued symbol of hospitality, and in Italy, a symbol of love. We can't think of a better herb to feature ~ what could be a better match than the inn's hospitality and recipes prepared with love?
We'll be using two of the over two dozen types of basil for the tour ~ sweet basil and lemon basil. Basil is great as a fresh herb to pair with tomatoes or eggplant, and it combines well with other herbs like oregano, thyme, parsley, and chives. Basil and garlic are a natural combo ~ just think about all the variations of pesto! Did you know that basil is healthy for you, too? It's a good tasting source of vitamin A, magnesium, iron, calcium, potassium, and vitamin C.
Here are some easy ways to use this great summer herb:
Add lemon basil to your favorite lemon bread, coffee cake or muffin recipe.
Mix fresh chopped sweet basil with garlic to top grilled salmon.
At the last minute, add basil to summer stir-fries that include eggplant, zucchini and tomatoes.