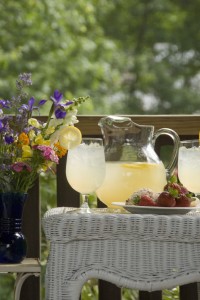 Plan a getaway to our Jackson NH inn to enjoy the Fryeburg Home and Garden Show, voted one of the Top 20 Maine Events by Yankee Magazine. Learn in seminars offered by experts in home improvement and gardening, and by chefs from some of your favorite Mt. Washington Valley restaurants. Have you eaten at the White Mountain Cider Company, 1785 Inn, Maestro's, or Stonehurst Manor? Grabbed a cupcake from the White Mountain Cupcakery? You'll want to catch demonstrations by these chefs and others from the Maine and New Hampshire area. Here's just a taste of what's happening when you can "Meet the Chefs":
Friday 1:30 – 2:15 pm ~ Jim Davis, Executive Chef, Stonehurst Manor. Dish: Bangs Island Mussels and Grilled Vegetables at the outdoor brick oven.
Friday 1:30 – 2:15 pm ~ Kathy and Marc Iannuzzi, Owners, White Mountain Cupcakery. Dish: Maple Bacon Cupcake topped with Maple Buttercream and Crispy Bacon; Maple Cinnamon Cupcake topped with Maple Buttercream.
Saturday 11:30 – 12:15 pm ~ Tim Pomerleau, Sous Chef, White Mountain Cider Company. Dish: Crispy Crab Cakes with Apple Fennel Slaw drizzled with cider reduction.
Saturday 12:30-1:15 pm ~ Kader Temkkit, Executive Chef, Mountain View Grand Resort and Spa. Dish: White Chocolate Bread Pudding with Fresh Blueberry and Maple Sugar, served with Goat Cheese and Cream Fraiche Sauce.
Saturday 2:30 – 3:15 pm ~ Bill Bennett, Owner, Maestro's Country Italian Cuisine Dish: Boneless Lamb Loin with Spice Infused Oil, Almond Spinach Pesto, Fresh Artichoke, and Toasted Fregola.
Sunday 10:30 – 11:15 am ~ Peter Willis, Chef, 1785 Inn. Dish: Fabulous Summer Recipes….A blend of Risotto, Ceviche and Cilantro Pesto.
Choose your favorite room and plan to take advantage of our Value Vacation Lodging Discount (your third night is $99-$139 OR your fourth night is FREE) so you can enjoy the show in nearby Fryeburg, ME all weekend. Hours are Friday 11 am – 6 pm, Saturday 10 am – 6 pm and Sunday 10 am – 4 pm at the Fryeburg Fairgrounds, just a scenic drive over Hurricane Mountain Road from North Conway, NH. Admission is $7 per person with the $2 discount coupon available on the Home and Garden Show's website.