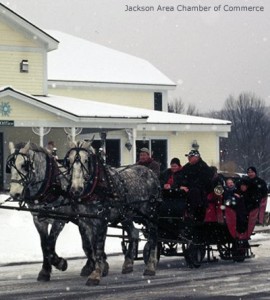 The Jingle Bell Chocolate Tour returns to Jackson, NH, for Thanksgiving weekend through the weekend of December 22, 2012, with a festive sleigh ride through the village that stops at inns and shops for chocolate treastures.  One of the Five Tasty Tours in the Granite State named by the Concord Insider, this popular holiday event combines two holiday favorites ~ a sleigh ride and chocolate.  The Tour departs from Nestlenook Farm and circles the village loop with stops at the Inn at Jackson,  Backcountry Bakery, The Wentworth, J-Town Deli and Country Store, the Snowflake Inn and Flossie's General Store.
The Inn at Ellis River's two night package includes two tickets for the Tour and a gift our homemade milk chocolate fudge. (A limited number of one night packages are available). We hope you will jingle your way into the holidays with this special sleigh ride, but if you can't, here's the recipe for our Milk Chocolate Fudge:
Ingredients
1 12 ounce can evaporated milk
4 cups sugar
1/4 pound (1 stick) margarine or butter
2 4.2 ounce bars Hershey's Special Dark chocolate
2 4.4 ounce bars Hershey's Milk Chocolate
12 ounces semisweet chocolate chips
1 7  ounce jar marshmallow whip
1 teaspoon vanilla
Directions
Place evaporated milk, sugar, and margarine or butter in a large saucepan. Stir together over moderate heat until margarine is melted and ingredients are combined. Bring to boil and boil exactly 5 minutes. Remove from heat and add chocolate bars and chocolate chips gradually, stirring constantly. When chocolate is completely combined with the milk mixture, add marshmallow whip and vanilla and stir until fudge is a uniform color. Pour into a 9×13 inch pan and refrigerate until firm.