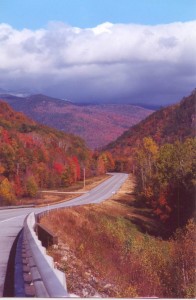 Fall foliage color is arriving in the White Mountains. Frosty nights mean that the reds, oranges and yellows of New Hampshire's spectacular foliage season are appearing along the Kancamagus Highway, and in the Great North Woods and the Mount Washington Valley. From Jackson, try a foliage itinerary that will take you over Hurricane Mountain Road, north through Evans Notch and then south past Mount Washington through Pinkham Notch back to the inn.
Another colorful route will take you north 20 miles to Gorham, then continuing on Route 16 north through Berlin to Errol, where you follow Route 26 west through Dixville Notch to Colebrook. From Colebrook, take Route 125 north to Pittsburg for more North Woods color, or turn south on Route 3 and follow the Connecticut River along the border between New Hampshire and Vermont. When Route 3 intersects Route 110, turn east and follow Route 110 back to Berlin, or continue south on Route 3 to Lancaster where you can turn east on Route 2 for great views of the Northern Presidential Range, and then south on Route 115 to Route 302 at Twin Mountain. There you'll turn left and follow Route 302 east past Bretton Woods and the Mount Washington Hotel, through Crawford Notch, and back to Jackson via Route 16 north at Glen .
There is good color on the higher elevations of the Kanamagus Highway as well, so for this loop, go south from the inn to Glen, and turn right (west) on Route 302. If you're thinking of a picnic lunch on your travels, stop at the White Mountain Cider Company's deli to stock up. At Barlett, turn left at the blinking light and follow Bear Notch Road to Route 112 (The 'Kanc'). Turn right toward Lincoln (note that there are no gas stations between Glen and Lincoln on this route). If you are in the mood for a short hike, stop at Sabbaday Falls, which is a relatively easy trail to the waterfall. Splashes of red and yellow will surround you as you go through the higher elevations, then descend into Lincoln.
At Lincoln, go north on I-93 toward Franconia Notch. You may want to make time to stop at the Flume to see Avalanche Falls (about a 2.5 mile round trip, but easy walking). Then you'll pass the site where the Old Man in the Mountain once stood as you go through Franconia Notch. If it's a bright clear day, consider taking the tram to the top of Cannon Mountain, where you'll have great views of both New Hampshire's White Mountains and the Green Mountains of Vermont. You can return to the inn via Route 3 to Twin Mountain and then Route 302 east, or continue farther north on I-93 and take Route 142 to Bethlehem (which as some interesting shops) before taking Route 302 east through Crawford Notch and back to Jackson via Route 16 north at Glen.
Check our Attractions Map for many of the locations mentioned on these drives. For frequently updated White Mountain foliage conditions you can check the Visit NH web site or their mobile site if you prefer. You can also call their Fall Foliage hotline at 1-800-258-3608. For maps showing the progression of 2012 New England foliage, visit the Foliage Network. After any of these drives, you'll be ready to enjoy the cozy fire and afternoon refreshments waiting to welcome you back to Jackson, NH and the Inn at Ellis River!