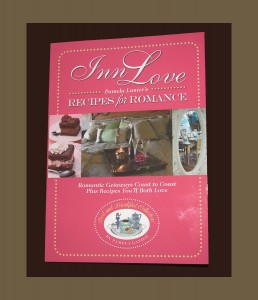 Inn Love ~ Pamela Lanier's Recipes for Romance is hitting the bookshelves in April with more than 150 recipes from inns, including our own Triple Chocolate Banana Muffins. The recipes, selected from romantic getaway destinations from coast to coast, will help you " bring your B&B romance home, and enjoy creating scrumptious dishes to enhance your pleasure morning, noon and night". Recipes include not only breakfast and brunch favorites, but main courses, accompaniments, and sweets for the sweet.
Our copies just arrived, so it is available to take home as a memento, or look for it as part of a romantic getaway package in the future. We hope you'll be visiting us soon for your own romantic getaway, but if you just can't wait to seduce your special someone with our muffins, visit our recipe section for the secret to a sweet breakfast treat.
We hope you'll make your own special memories Inn Love!