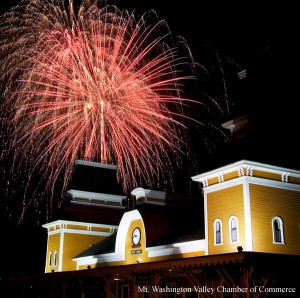 There are ways to celebrate Independence Day all week in the Mount Washington Valley, so plan to come and enjoy traditional Fourth of July celebrations during your getaway to our quintessential New England village of Jackson, NH. Jackson starts the celebration off June 29 with a Fireworks Display enjoyed by locals and visitors alike. You can see the fireworks from some of the inn's balconies, or take a front row seat on the golf course.
Saturday, plan a visit to the Remick Country Doctor Museum and Farm from 4-6 pm and immerse yourselves in a Civil War program featuring a soldier from each side in full uniform, Civil War era food to sample, and many period artifacts. Return to the present century for the first annual music and art festival featuring a weekend of local artists and musicians at coffee shops, galleries, pubs and restaurants throughout Mt Washington Valley. Don't forget to check out the great tax-free shopping bargains at Settler's Green and other regional stores as well!
July 4, 2012 is full of traditional celebrations with a morning parade in North Conway and fireworks at Cranmore at 7:30 pm, and at North Conway's Schouler Park at 9:45 pm, or travel up Crawford Notch to see the fireworks against the backdrop of Mount Washington at Bretton Woods. It will be a holiday getaway to remember, and don't forget, the fourth night of your stay is free on the Fourth!