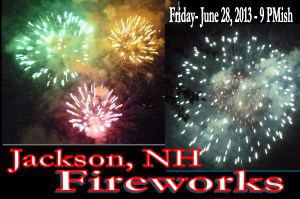 Plan to get a head start on celebrating Independence Day with Jackson, NH's fireworks display on June 28. It's an old-fashioned community event where you can stake out your spot on the golf course and watch the festive display beginning about 9 pm. Come early to claim a spot and sample some treats from the Jackson Chamber of Commerce (popcorn, corn dogs, etc.) and the Fire Department. J-Town Deli & Country store also will be open with treats and fireworks specials.
Thursday, July 4, 2013, plan to enjoy Conway's Independence Day Parade in the morning, then choose between fireworks that evening in North Conway (by the train station) or up through Crawford Notch at Bretton Woods and the Mount Washington Hotel.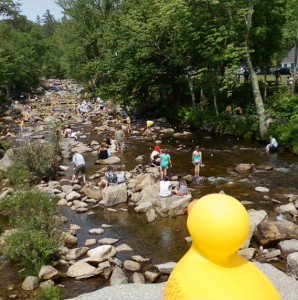 The fun continues Saturday, July 6, 2013, with the long-awaited Wildquack Festival (usually celebrated Memorial Day weekend). It's an old-fashioned village celebration with booths, a silent auction, Cake Boss competition, and THREE duck races. We still tickets for sale for the races ~ $6 for one or 4 for $20. If you haven't seen enough fireworks, there will be more on Saturday evening at Bretton Woods.
So plan on an old-fashioned celebration and getaway to celebrate our nation's birthday!