"A warm mug cupped in the hands is a powerful way to connect with people." ~ Deneen Pottery
Have you ever wanted to know more about those mugs that greet you each morning at the Inn at Ellis River? They are hand-crafted by a small family business with the same attention to detail you'll find here at the Inn. That process means that over 24 pairs of hands touch each piece that begins with a lump of clay and ends in the twice-fired mug that you cup in your hands each morning. You can see the care with which the pottery is created on the video on their website. All the glazes are lead free, food safe, and formulated at the pottery. The mugs are dishwasher safe (believe us, we give them daily use at the Inn) and can be used in the microwave if at least half full of liquid.
You'll find a rainbow of color combinations to greet you at breakfast. Autumn, Winter, Spring or Summer, you can choose one at breakfast to fit the season ~ and with so many choices, we're sure one of them will complement your home or office decor if you want a memento of your stay!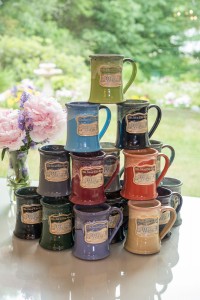 For Autumn memories, we suggest foliage colors that surround us in the White Mountains each year ~Hunter Green with Dijon/White, Coral with Dijon/White marble, it's complement, Dijon with Coral/White, or for November, Black with Cinnamon/White.
During the holidays,some colors bring warm feelings of holiday memories such as Midnight Blue with Cranberry/White or Black with festive Red/White
In Winter, Grey with Black/White and Black with Hunter Green/White reflect the black and white of bare branches and evergreens against the snow.
Spring is a time to look ahead to new green on the trees and blue skies, with mugs such as Kiwi with Midnight/White, it's complement, Midnight Blue with Kiwi/White, Powder Blue with Blue/White, Wisteria with Plum, or Teal with Cinnamon/White.
Summer is full of all the colors of the rainbow including the deep blue sky at dusk, forest greens, the soft sage green and bright colors in flower gardens represented by Hunter Green with Blue/White, Sage, and Teal with Cinnamon/White.
We are delighted to be able to feature other hand-thrown items from Deneen Pottery as well, including our syrup pitchers, creamers, sugar bowls, and vases. The tall bud vases you see in our breakfast room and the sugar bowls both are made uniquely for the Inn at Ellis River. The Inn's image also appears on our privacy door hangers, drink coasters, magnets, and a holiday ornament.
When you pick up that comforting morning cup at the Inn, we hope that you feel a special connection to us because their motto, "Our life's work is in your hands.." reflects not only the pottery that greets you at breakfast, but our hopes that we can make your stay a very special one.