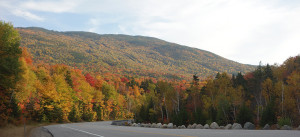 You'll find some of the most delightful hiking in the White Mountains in late August and September, as summer turns into fall, and the leaves begin to take on their foliage hues in the higher elevations of New Hampshire's Presidential Range and along the Kancamagus Highway. It's a great time to book your stay at the Inn at Ellis River using our Value Vacation offer (third night $99-$149 or fourth night FREE), so you can fit in lots of scenic drives or hikes.
Of course, you'll need to take along appropriate clothing, water, and trail mix to keep up your energy throughout the day. It's no wonder that August 31 is Trail Mix Day, celebrating the chance to test out your favorite one on the trail. We hope you will try our version at the Inn at Ellis River on your next outdoor adventure!
INN AT ELLIS RIVER'S TRAIL MIX
Ingredients:
4 cups oatmeal
1/4 cup walnut pieces
1/4 cup pecan pieces
1/4 cup cashew pieces
½ cup peanuts, dry roasted or honey roasted
1 teaspoon cinnamon
1/4 teaspoon pure maple extract or vanilla if preferred
1 can sweetened condensed low-fat milk
1/4 cup canola oil
2 cups banana chips
1/4 cup dried apricots, diced
1/4 cup dried cherries
1/4 cup golden raisins
1/4 cup raisins, seedless
1/4 cup dried cranberries
1/4 cup dried blueberries
1/4 cup dried raspberries
1/2 cup chocolate chips, dark (not semi-sweet or milk) optional
Directions:
Preheat oven to 300 degrees F. Combine sweetened condensed milk, canola oil, cinnamon, and maple or vanilla extract. Pour over oatmeal and mix well, Spread mixture evenly on two cookie sheets lined with parchment paper. On another cookie sheet, spread out the almonds, pecans, walnuts, and cashews. Bake oatmeal mixture approximately one hour, stirring every 15 minutes. Remove from oven and cool. Bake nuts in oven at same temperature for only about 10 minutes or until lightly toasted. Remove from oven and if desired, sprinkle with a very small amount of salt while nuts are still warm. In a large bowl, mix together the cooled nuggets, nuts, and dried fruit. Add I/2 cup dark chocolate chips if desired. Of course, you can use any combination of dried fruits and nuts you like! Store tightly covered at room temperature.