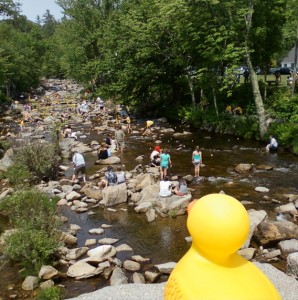 After a long and unusually cold winter why not bring on this spring season with some fun, outdoor activities! Our snow is melting and this year's robust ski season is winding down. We can finally hear the birds chirping and are beginning to feel the early spring breezes plus with the ice melting, the river is flowing with those soothing sounds.
Refresh and renew this spring with some upcoming area events including the following:
Come join us right here in Jackson, NH for our 26 Annual Wildquack Duck River Festival! This wacky event brings to you a race of more than 3,500 rubber ducks down the Wildcat River. Admission is FREE and activities begin at 8 AM on Sunday, May 24. You can purchase your own rubber duck to enter the race too and win various prizes one of which is $1000 in cash! The day promises lots of fun for all ages with food and games, a silent auction, a parade and more! Tickets to enter your own duck into the race are on sale now at the Inn at Ellis River.
Take advantage of this crazy, fun day by booking our Wildquack Package – this package includes two nights lodging, a hearty country breakfast each morning, afternoon refreshments, 2 duck race tickets, souvenir duck and "Good Luck Duck" Hors d'oeuvres on Saturday, May 23rd (package price varies based on room selection).
Also not too far away, bring on the spring season with the May Fair presented by the Home Garden Flower Show taking place on May 15, 16 and 17 at the Fryeburg Fairgrounds, Route 5 in Fryeburg, Maine 04037. This has been voted one of the top 20 events in Maine by Yankee Magazine.
Taking place rain or shine, the May Fair is sure to be a lot of fun with great finds and a wide variety of indoor and outdoor displays. In addition to landscape displays, interior decorators, experts from across various home improvement disciplines and many other displays, new in 2015 there will be an Indoor Farmers Market with "local, sustainable, clean food and products" and a Wine, Craft Beer and Cheese Pavilion where you can sample varieties of beers, wines and cheese with fee proceeds going to a great local cause. For more information, please visit the May Fair online.