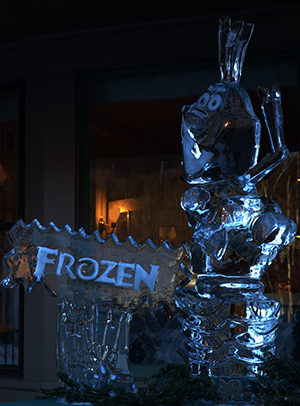 New Hampshire's frozen winter weather in January brings hardy White Mountain artists to Jackson ~ our brave sculptors of ice and snow! The Wentworth, here in Jackson, hosted the annual Ice Carving Competition on Monday, January, 5, 2015. The competitors create works of art from 300 pound blocks of ice using chisels, picks, even chain saws make the ice chips fly, and blow torches smooth edges to create animals, birds, mythological figures and other flights of fantasy. They are on display on the porch of the Wentworth as long as arctic temperatures allow.
Jackson's frozen theme continues throughout the winter with the New Hampshire Sanctioned and Jackson Invitational Snow Sculpture Competition. The competition returns to the heart of the village at Jackson Village Park with teams sculpting both at the Park and at Nestlenook Farm. Each team sculpts a cylinder of snow 4 feet in diameter by 8 feet tall to create their snow sculptures and is judged on the basis of creativity, technique and message. The State Championship winner receives an invitation to compete at the United States National Snow Sculpting Competition in Lake Geneva, Wisconsin. Sculptors begin Friday, February 27, and must be finished by noon on Sunday, March 1, 2015.
So make plans to come and see all the frozen art Jackson offers this winter!