Inn at Ellis River's Candied Lemon Ginger Cookies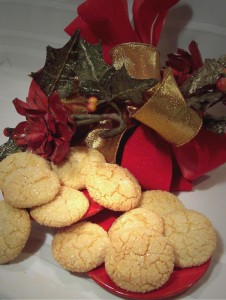 From the 2009 Inn to Inn Cookie Tour, we feature these as afternoon treats throughout the year ~ who can resist the combination of lemon and ginger whatever the season?
Ingredients
2 cups flour
½ teaspoon baking soda
1/4 teaspoon salt
3/4 teaspoon ground ginger
½ cup unsalted butter, softened
4 ounces cream cheese, softened
1 cup white sugar
½ cup light brown sugar
1 egg
3/4 teaspoon Boyajian lemon oil
2 tablespoons candied lemon peel
2 tablespoons crystallized ginger
Coarse sparkling sugar
Directions
Preheat oven to 350 degrees. Use a whisk to mix together flour, baking soda, salt, and ground ginger. Cream softened butter, cream cheese and sugars together well, scraping sides of bowl as needed. Add egg and lemon oil (or 1 tablespoon grated lemon rind) and beat on medium speed until light and fluffy. Add flour mixture gradually, blending at low speed just until combined. Finely chop lemon peel and crystallized ginger and gently mix them into the dough. Chill dough until firm. Form into 1 inch balls and roll in sparking sugar until evenly coated. Place balls 2 inches apart onto parchment lined cookie sheet. Bake 11-15 minutes until cookies are slightly puffed. Yield: 3 dozen cookies.