Inn at Ellis River's Raspberry Apricot Almond Bars
This bar cookie was a big hit at the Inn to Inn Cookie Tour in 2010 ~ it takes a while to prepare, but the delicious results are worth every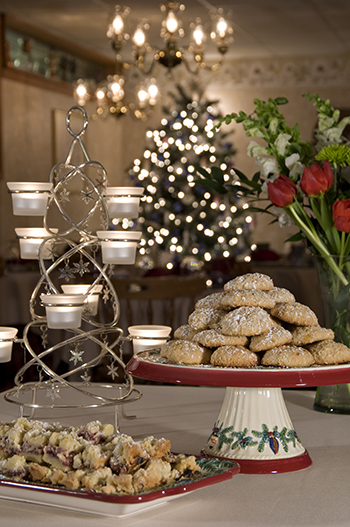 minute!
Ingredients
3 ounces dried apricots
½ cup water
2 tablespoons Amaretto
1 ½ cup butter
1 cup sugar
2 tablespoons natural almond extract
1 teaspoon vanilla
½ teaspoon salt
3 ½ cups flour
2/3 cup seedless raspberry jam
1 cup toasted almonds, chopped
1 cup white chocolate chips
Directions
In a small saucepan, place apricots and water, cover and allow to stand two hours. Simmer 20 minutes over very low heat, tightly covered, until apricots are soft. Place apricots, remaining cooking liquid and Amaretto in a mini food processor and process until smooth.
Preheat oven to 375 degrees. Lightly grease a 13 x 9 inch pan. In a large mixing bowl, cream together butter and sugar, vanilla, almond extract, and salt. Gradually add flour and beat until combined. Pat approximately 1/2 of the dough into the pan and bake in preheated oven 20-25 minutes until firm and edges are slightly brown. Remove from oven and spread apricot mixture over dough. Place raspberry jam in dollops over apricot filling and swirl. Then sprinkle with chopped almonds and white chocolate chips and crumble the remaining dough over the top. Return to oven and bake 20 minutes or until top is lightly browned. Yield: 3 dozen cookies.