Inn at Ellis River's Basil Pignoli Bites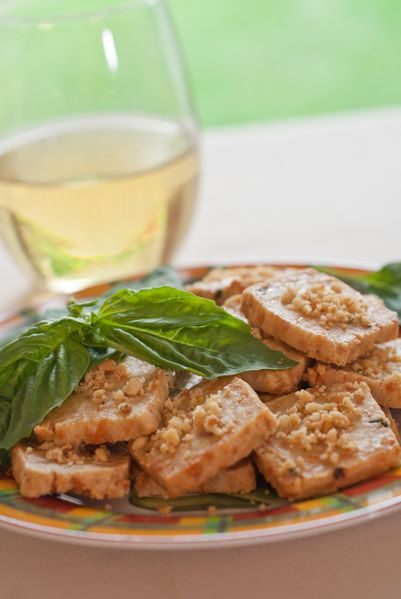 Savory herb-flavored snacks great for afternoon tea or with a glass of white wine, these little shortbreads were featured for the 2012 Inn to Inn Herb Tour.
Ingredients
1 cup unsalted butter, softened
2 large egg yolks + 2 whole eggs
3/4 cup Parmesan Cheese, grated
3/4 cup Asiago Cheese, grated
3 cups all-purpose flour
½ teaspoon salt
1 1/4 cups pine nuts, toasted and chopped fine
1 tablespoon water
2 tablespoons basil, chopped fine
1 teaspoon lemon zest (optional)
Pesto for garnish (optional)
Directions
Cream butter. Add 3 egg yolks and 1 whole egg (reserve 1 egg white). Mix in cheeses and then add flour and salt and mix until combined. Add water, then 1 cup pine nuts and basil (plus lemon zest if desired) and mix until workable dough forms.Form dough into 2 inch log and wrap in plastic wrap. Press log on counter to form a rectangular shape. Chill for 2 hours until firm. Slice dough 1/4 inch thick and arrange slices on a parchment lined baking sheet. Brush slices with reserved egg white and sprinkle with remaining pine nuts.Bake at 375 degrees for 10-12 minutes until bottoms are a light golden brown. Let cool on cookie sheet for several minutes and transfer to cooling rack. Just before serving, top with a small dollop of Pesto if desired.