Inn at Ellis River's Chipotle Cheddar Savory Shortbreads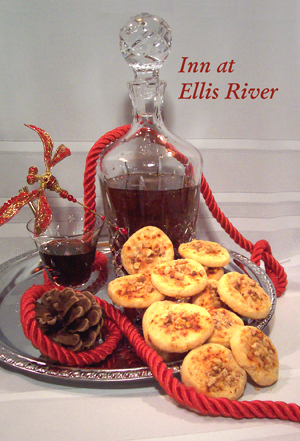 Featured at the 2009 Inn to Inn Cookie Tour, these savory bites are great as an appetizer, for brunch, or with a glass of wine.
Ingredients
8 ounces Cabot Chipotle Cheddar cheese
1 cup (2 sticks) butter, softened
2 cups flour
1 teaspoon smoked paprika
½ teaspoon salt
1 egg
1 teaspoon water
½ cup walnuts, toasted and finely chopped
Additional smoked paprika and salt for topping
Directions
Grate cheese. Cream together butter and cheese. Mix flour, paprika and salt together with wire whisk and gradually add dry ingredients to butter and cheese. Do not over mix. Roll dough into 2 inch diameter logs and chill until firm. Slice rolls 1/4 inch thick and place on cookie sheet lined with parchment paper. Brush each round with egg wash, then sprinkle with a dash of salt, smoked paprika, and toasted walnuts. Bake at 350 degrees for 14-18 minutes until golden, but not brown. Yield: 3 dozen.