Turkey Terrine ~ A Great Holiday Appetizer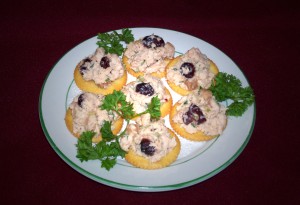 This appetizer is a great way to use any leftover turkey and enjoy a classic holiday flavor combination. Try spreading the terrine on bite size cornmeal biscuits, or easiest of all, use crackers like Garlic Butter Ritz.
Ingredients
10 ounces cooked turkey breast, chopped coarsely
1/4 cup fresh parsley, chopped
1/4 cup mayonnaise
3 tablespoons unsalted butter, softened
3 tablespoons cranberry honey mustard
3 tablespoons Chardonnay or other dry white wine
1/4 cup celery, diced fine
1/4 cup dried apple, diced fine
1/4 cup dried cranberries
2 tablespoons chives, chopped fine
1 teaspoon fresh sage, chopped
½ teaspoon lemon zest
½ teaspoon black pepper
3/4 teaspoon salt
Directions
Use food processor to chop turkey until coarsely chopped (do not overprocess). Mix parsley, mayonnaise, butter, mustard, wine, celery, apple, cranberries, chives, sage, lemon zest, pepper and salt until blended. Add turkey and mix well. If mixture is too dry, add a little more wine. Place in serving container or mold, cover with plastic wrap, and chill 8 – 24 hours. Let stand at room temperature 30 minutes before serving. Serve with buttery crackers or cornmeal mini-biscuits. Terrine may be stored in airtight container up to 3 days.