Inn at Ellis River's Holiday Joys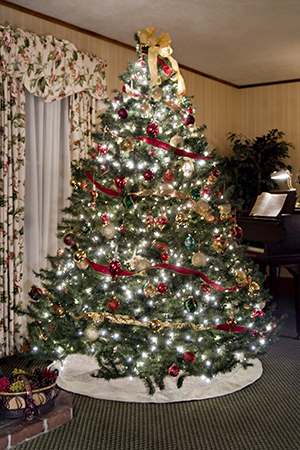 The favorite from our 2012 Inn-to-Inn Cookie Tour, these cookies are full of chocolate and almond flavors, just like a certain candy bar… so be sure to enjoy them all year around!
Ingredients
1 1/4 cups sliced almonds (not slivered)
2 ¼ cups flour
3/4 cup cocoa
½ teaspoon baking soda
¼ teaspoon salt
1 cup unsalted butter
2 cups light brown sugar
2 eggs
1 teaspoon pure vanilla extract
1 teaspoon pure almond or Amaretto extract
1 cup high quality chocolate chips
1 cup unsweetened coconut (fine shred)
Bittersweet chocolate candy bar (approximately 3 ounces)
1 cup confectioners' sugar
1-2 tablespoons Amaretto
Directions
Preheat oven to 375 degrees. Spread almonds on a baking sheet and toast in oven for 10-12 minutes until very lightly browned. Mix together flour, cocoa, baking soda and salt with a wire whisk and set aside. Cream butter and sugar together well, scraping sides of bowl as needed. Add eggs, vanilla, and almond or Amaretto extract and beat on medium speed until light and fluffy. Add flour mixture gradually, blending at low speed just until combined. Carefully mix in chocolate chips, coconut, and 1 cup almonds. Drop by rounded tablespoons full 2 inches apart onto parchment lined cookie sheet. Bake 11-13 minutes. Using a spatula, transfer cookies to a cooking rack.
When cookies are cool, melt bittersweet chocolate candy bar on low power in microwave and drizzle melted chocolate over cookies. Allow chocolate to cool. Make a glaze of confectioners' sugar and Amaretto (or almond extract and milk) and drizzle on cookies in the opposite direction. Top with reserved toasted almonds. Makes 3 dozen cookies.