Inn at Ellis River's Cookies for Breakfast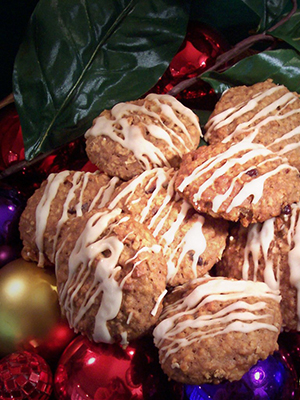 Did your mother say 'NO' when you begged for cookies for breakfast? We say 'YES'!
Ingredients
1 cup unsalted butter, softened
1 cup packed light brown sugar
1 cup granulated sugar
2 large eggs
1 cup applesauce
2 teaspoons natural maple extract
3 cups quick oats (not instant)
2 1/2 cups all-purpose flour
1 teaspoon baking soda
1/2 teaspoon baking powder
1 teaspoon salt
1 cup dried cranberries or craisins
1 cup walnuts, toasted and chopped fine
1 cup dried apple, chopped fine
Optional Glaze
1 3/4 cups confectioners' sugar
3 tablespoons pure maple syrup
1 tablespoon egg white (pasturized)
Directions
Cream butter and sugars together in the bowl of an electric mixer. Add eggs one at a time, beating well after each addition. Add applesauce and maple extract and mix until well blended, 2 to 3 minutes. Slowly mix in oats, flour, baking soda, baking powder, and salt. Stir in cranberries, apples and walnuts.
Chill dough for approximately 20-30 minutes. Preheat oven to 350 degrees F. Using a 1 1/2-inch cookie scoop, drop dough onto baking sheets lined with parchment paper, spacing 2 inches apart. Bake cookies until golden and just set, 16 to 18 minutes. Let cool on sheets 5 minutes. Transfer cookies to a wire rack set over parchment paper; let cool completely.
Make glaze (optional): Whisk confectioners' sugar, maple syrup, and egg white until smooth. Add water if needed to reach glaze consistency. Drizzle over cookies, let set. Makes approximately 36 cookies.