Inn at Ellis River's Lemon Basil Coffee Cake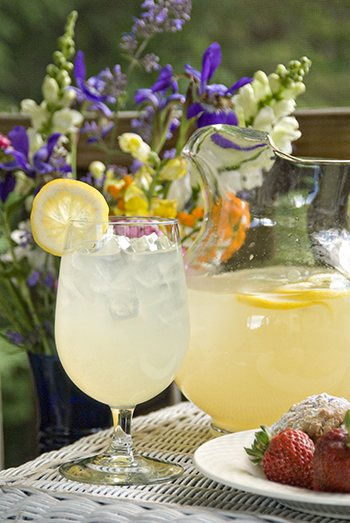 Innkeeper Christine modified her GaGa's recipe to create this delicious coffee cake featured at the Inn to Inn Herb Tour in 2012. You can vary this recipe by substituting strawberries or raspberries for the lemon basil to create another summer treat. Serve it for breakfast or an afternoon snack!
Ingredients
1 cup unsalted butter, softened
2 cups sugar
4 eggs
1/2 teaspoon salt
3 cups flour
1 tablesponn baking powder
1 cup milk
1 1/2 teaspoon Boyajian Lemon Oil or 1 tablespoon lemon zest
2 tablespoons lemon basil leaves, chopped
Directions
Cream butter and sugar until light and fluffy. Add eggs, one at a time until blended. Stir together salt, flour and baking powder. Add alternately with milk to butter mixture, beginning and ending with flour. Add lemon oil or zest and lemon basil and beat 2 minutes with electric mixer. Do not overbeat. Pour batter into buttered bundt pan and bake at 350 degrees for approximately 45 minutes or until cake tester comes out clean. Cool 5 minutes, then remove cake from pan by inverting onto a cooling rack.