Inn at Ellis River's Triple Chocolate Banana Muffins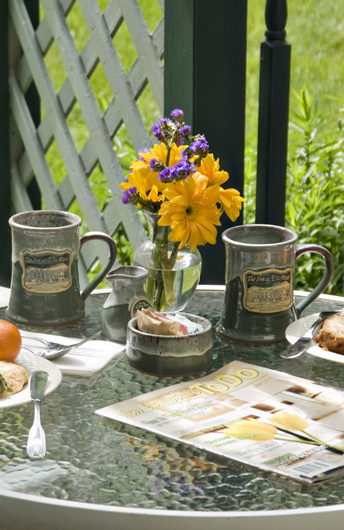 What could be a more romantic way to start the morning than with these triple chocolate muffins and an intimate table for two? Our recipe is featured in Inn Love ~ Pamela Lanier's Recipes for Romance ( 2012).
Ingredients
4 ½ cups flour
2 tablespoons baking powder
2 cups sugar
½ cup + 1 tablespoon Dutch Processed cocoa
1/2 teaspoon salt
3 medium bananas, mashed
2 eggs, slightly beaten
½ cup melted butter, cooled
1 teaspoon vanilla
½ cup sour cream
2 cups milk
3/4 cup premium quality white chocolate chips, such as Ghirardelli
3/4 cup premium quality double chocolate chips, such as Ghirardelli
Confectioner's sugar for dusting tops
Directions
Preheat oven to 400 degrees. Whisk flour, baking powder, sugar, cocoa, and salt together. Mix eggs, butter, sour cream and vanilla into mashed bananas. Gradually add milk to mixture. Add wet mixture to dry ingredients, and mix gently until almost combined. Fold in chocolate chips. Do not overmix. Spray muffin tins with a non-stick spray, and fill about 2/3 full. Bake for 22 – 25 minutes, or until test utensil comes clean. Let cool sightly, remove from baking pan, and dust with confectioner's sugar before serving.
Makes approximately 2 dozen muffins.