Inn at Ellis River's Pumpkin Pear Muffins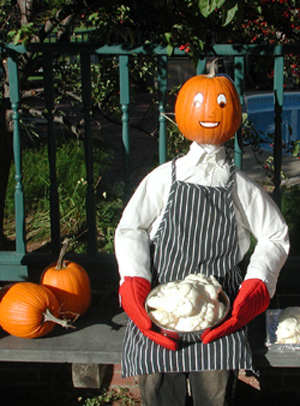 These muffins are a fall favorite for breakfast at the inn, but we never ask one of the Pumpkin People to make them ~ not even Mr. Baker!
Ingredients
4-½ cups flour2 tablespoons baking powder
1-3/8 cups sugar
1 teaspoon salt
2 eggs
1-½ cups milk
5/8 cup melted butter, cooled
½ teaspoon pumpkin pie spice
½ cup sour cream
½ can pumpkin (not pie filling)
1 cup diced fresh pear or ½ jar pear slices, diced
1 cup walnuts, toasted
Sugar for dusting tops
Directions
Preheat oven to 400 degrees. Mix dry ingredients and nuts together. Mix wet ingredients and pumpkin together. Mix quickly into dry ingredients. Fold in diced pears, being careful not to overmix. Bake until test utensil comes clean. Let cool sightly, remove from baking pan, dust with confectioner's sugar or dip in butter and top with cinnamon sugar.
Makes approximately 2 dozen muffins.