Inn at Ellis River's Frosty Virgin Marys *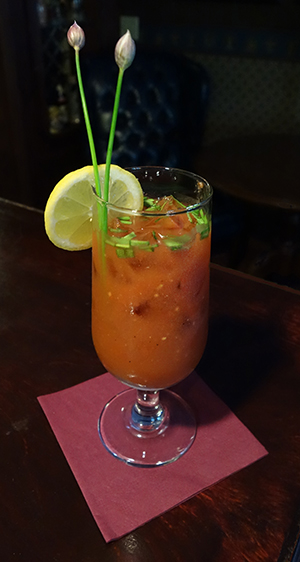 This refreshing version of a Virgin or Bloody Mary features chives and fresh tomatoes, and was a hit at the 2014 Herb Tour. Cheers, everyone!
Ingredients:
1 ½ cups grape tomatoes
1 ½ cups tomato juice
2 green onions, chopped
1/4 cup chives, chopped
3 Tablespoons lemon juice
4 teaspoons Worstershire sauce
½ teaspoon horseradish or to taste
6 dashes green Tabasco sauce or to taste
½ teaspoon sea salt
Freshly ground pepper to taste
Chopped chives and lemon wheels for garnish
Directions:
Freeze grape tomatoes. To prepare drinks, place frozen tomatoes, half the tomato juice, chives, lemon juice, Worstershire sauce, horseradish, Tabasco, and sea salt in a blender container. Blend until all ingredients are smooth and frosty. Add remaining tomato juice and pepper to taste and blend again. Pour into glasses and garnish each with chopped chives and a lemon wheel. Serve immediately.
*For a Frosty Bloody Mary, add pepper or citron vodka. If using pepper vodka, do not add pepper to the tomato mixture.