Inn at Ellis River's Herbed Guacamole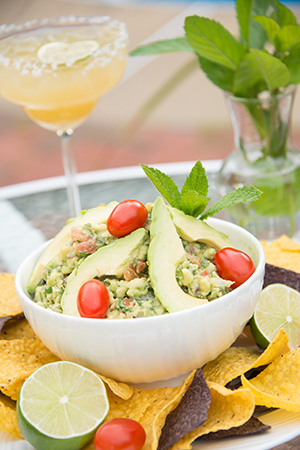 For a refreshing change in hot weather, serve this guacamole with blue and yellow corn tortilla chips. This recipe was featured on the 2013 Herb Tour, so mint is the extra special touch.
Ingredients:
2 avocados, diced
1 tomato, seeded and diced
1/4 cup red onion, minced
1/4 cup cilantro, minced
2 Tablespoons mint, minced
1 jalapeno pepper, seeded and minced
2 Tablespoons fresh lime juice
Sea salt and freshly ground pepper, to taste
1 cup Monterey Jack cheese, shreddedCherry or grape tomatoes for garnish
Blue and yellow corn tortilla chips for serving
Directions:
Mix the avocados, tomato, onion, cilantro, mint, jalapeno and lime juice. Season with salt and pepper to taste. Sprinkle guacamole with the cheese, or if you prefer, use the microwave to melt the cheese and spoon over the guacamole. Garnish with cherry or grape tomatoes and serve with tortilla chips.