Spirited Chocolate Raisin Treats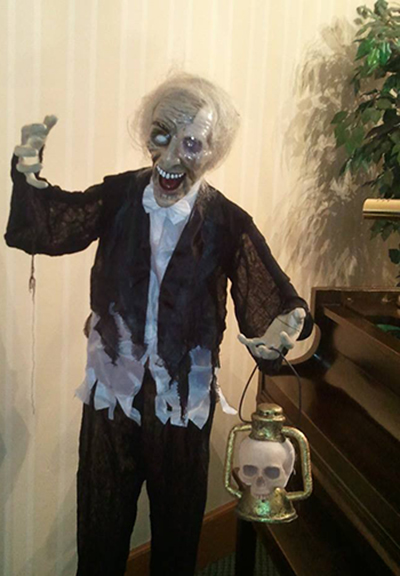 The Inn at Ellis River participated in an Inn to Inn Ghosts and Goblins Trail for the first time in October, 2013.  Here is one of the treats the touring ghosts and goblins enjoyed. You don't have to wait until Halloween to enjoy these cookies ~ just change the color of the frosting and they're good any time of the year!
Ingredients:
1 ½ cups Thompson raisins
½ cup dark rum (such as Meyers)
3 cups all purpose flour
1 cup Dutch process cocoa
1 teaspoon baking powder
1 teaspoon baking soda
 ½ teaspoon salt
1 3/4 cups granulated white sugar
1 cup unsalted butter, softened
2 eggs
1 Tablespoon natural rum extract
1 cup bittetsweet chocolate chips
3 ounces bittersweet chocolate
1 cup confectioner's sugar
1 Tablespoon milk
1 ½ teaspoons light corn syrup
1 teaspoon natural rum extract
Orange food coloring
Directions:
Combine raisins and rum in a Pyrex measuring cup, and heat on low power in microwave until rum is hot but not boiling. Allow to stand at least 30 minutes, until raisins are plumped and the liquid is absorbed. Preheat oven to 375 degrees F. In an electric mixer, beat together sugar and butter until fluffy. Add eggs and rum extract, beating until blended. In a separate bowl, whisk together flour, cocoa, baking powder, baking soda and salt. Slowly add dry ingredients to butter mixture, using lowest mixer speed. Beat until well combined, then fold in raisins and chocolate chips. Use a scoop to form rounded cookies on parchment paper lined cookie sheets. Bake for about 9 -11 minutes or until just set.
While cookies are cooling, place bittersweet chocolate in a microwave safe container and melt on low power in microwave. Drizzle over cooled cookies. When chocolate has become firm, mix together confectioner's sugar, milk, corn syrup, rum extract, and food coloring. If mixture is too thick to drizzle, add milk until it will flow from a spoon. Drizzle the orange glaze in the opposite direction from the chocolate one, or if you have a very steady hand, create a spiderweb design. Yield: 3 dozen cookies.