Turtle Chocolate Pecan Crepes for Lovers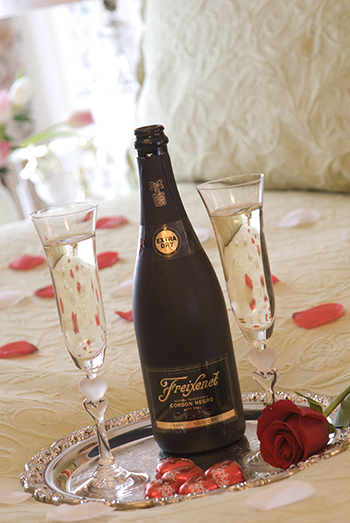 These indulgent crepes are a delicious way to celebrate Valentine's Day, a birthday, anniversary, or any special occasion. You can prepare the components ahead, so assembling the crepes on a plate for two takes only a few minutes. Let the romance begin!
Ingredients for Crepes
4 eggs
2 cups whole milk
1/4 cup water
1/4 cup Caramel Irish Cream liqueur
2 teaspoons vanilla
1/4 teaspoon salt
2 cups flour
1/4 cup sugar
2 Tablespoons Dutch Process Cocoa
1/4 cup butter, melted
Ingredients for Filling
8 ounces mascarpone
8 ounces whole milk ricotta
3 Tablespoonsconfectioner's sugar
3 Tablespoons brown sugar
2-3 Tablespoons Caramel Irish Cream Liqueur
1 teaspoon vanilla
1/2 cup pecans, toasted
1 ½ Tablespoons Dutch Process Cocoa
Ingredients for Garnish
1 cup commercial or homemade caramel sauce
½ cup pecans, toasted
Fresh strawberries
Directions
For Caramel and Chocolate Crepes: In a blender, combine all ingredients for crepe batter except the cocoa and butter, and blend until mixture is a smooth batter. Divide batter in half, and stir cocoa into one half. Chill both batters, covered, in refrigerator for at least 1 hour. Line a baking sheet with parchment paper. Heat a nonstick crepe pan or 10-inch saute pan and coat lightly with melted butter. Pour about 1/4 cup of the Irish Cream batter into pan and tilt the pan to spread batter evenly on the bottom. Cook for about 1 minute until set and slightly browned on bottom. With a heat-resistant spatula, carefully flip the crepe over and cook until second side is slightly browned. Repeat with the remaining butter, Irish Cream batter and chocolate batter.
To use immediately, as each crepe is completed, place it on parchment lined baking sheet, cover with foil, and keep warm in a 200 degree F. oven. To store for later use, place crepes on parchment paper until cool and then stack them between parchment or waxed paper and store in a plastic bag in refrigerator or freezer.
For Caramel and Chocolate Fillings: Drain any liquid from the top of the ricotta. Whisk together the ricotta, mascarpone, sugars, liqueur, and vanilla.  Divide the mixture in half into separate bowls. Pulse ½ cup pecans in a food processor until finely chopped and add to half the filling. Blend the cocoa into the other bowl of filling. Cover and refrigerate until ready to use.
To Serve Crepes: Combine caramel sauce and pecans and heat gently. Divide caramel filling equally among caramel crepes and spread evenly, leaving a 1/4-inch border. Fold crepe in half and in half again to form a quarter circle triangle. Repeat the process with the chocolate crepes and chocolate filling. For each serving, arrange one caramel and one chocolate crepe on plate and garnish with caramel pecan sauce and fresh strawberries.
Yield: 8-10 caramel crepes and 8-10 chocolate crepes.